"You could say that the performance is full of contrasts. But you should also say that it works. – The performance sent a chill up my spine" – Helsingin Sanomat
Aikaa aamuun – Until dawn is a choreography performed with live music, inspired by old myths about night from around the world. Maija Lepistö, a dancer-choreographer who shares her time between Seville and Helsinki, combines Finnish soundscapes and ancient Kalevala singing tradition with flamenco.
The piece narrates those moments that are unconnected from the whole, unconsciously – or deliberately – between sleep and wake. The northern soundskape meets the southern, the opposites complement each other. Two gorgeous singers create the changing time and place. Mara Rey's dark voice sounds to Andalusia; Veera Voima with her clear and vivid voice and the Kalevala rythmics lead the audience to the northern ancestral countries. The wistful singing of the arctic loon is accompanied by darker shades of flamenco, heartbreaking vocals and fascinating and intense rhythm.
Choreography and dance: Maija Lepistö
Music and guitar: Rubén Romero
Vocal: Mara Rey, Veera Voima
Percussion: Karo Sampela
Lighting design: Helena Roivainen
Premiere: 15.10.2010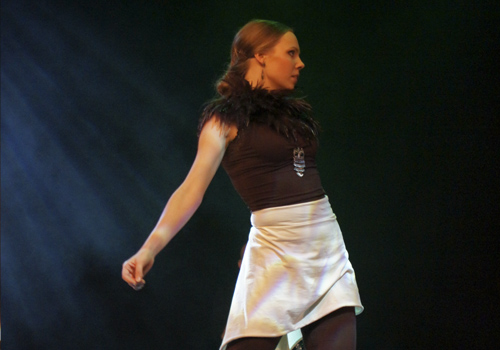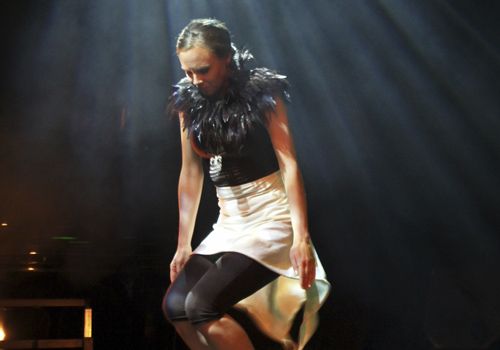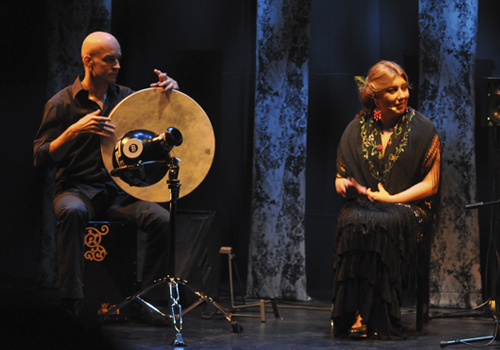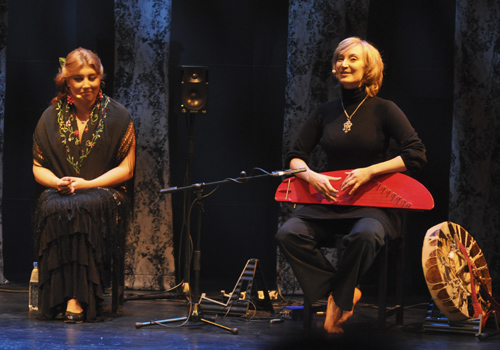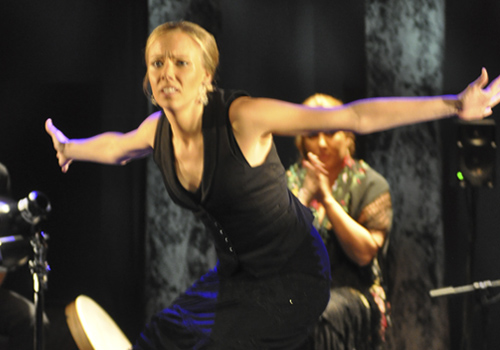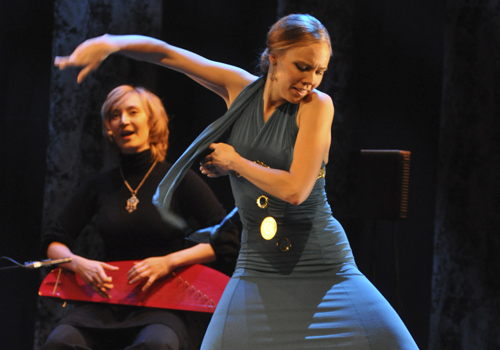 From the press:
"I'm lying on the floor of the restaurant Havana's backroom corner. I can explain. There are dance halls in the backroom, I love to follow rehearsals, it is my day off and the artists have gone for a break. I am just relaxing here. A spanish singer Mara Rey has just sung her fiery flamenco improvisations and my ears are still humming. Or are they? In any case, the floor feels fading beneath me. Do I fly? Only after a while I realize that the singer Veera Voima has begun to practice her own part, a small archaic lullaby, which she sings at the end of the dance hall very quietly and hypnotically. In the song she flies "over the nine seas". "Sleep, sleep the grassland bird, sleep when I am sleeping", she sings and knocks at her magic drum. I have to obey."
Finlands main newspaper Helsingin Sanomat lists the most wonderful, touching and memorable experiences of 2010. Leena Pallari, Helsingin Sanomat 6.1.2011.
"We could almost speak about a Finnish flamenco school, just that the artists are very different. One of the most expressive ones is Maija Lepistö, whose work "Aikaa aamuun" does not bother the viewer with excessive egotism. It's a pity as such, I wish we could see more of this dancer who is technically so prepared and very expressive. – Lepistö´s dance is beautiful, and on the other hand, shattering." Jussi Tossavainen, Helsingin Sanomat 17.10.2010.
MAIJA LEPISTÖ | info@maijalepisto.com